Fully accredited supervisor - Can supervise as principal supervisor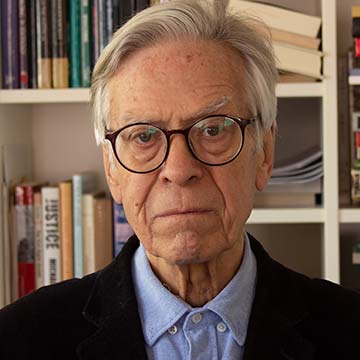 Areas of expertise: globalization and religion; religious conflict and the modern state; human rights and religion
Phone: +612 9465 9056
Email: byran.turner@acu.edu.au
Location: ACU North Sydney Campus
ORCID ID: 0000-0001-6378-7144
Professor Turner is one of the world?s leading sociologists of religion. His research interests include globalisation and religion, religious conflict and the modern state, and human rights and religion and he has received several honorary degrees recognising his contributions to Sociology, most recently Doctor of Letters from the University of Cambridge. Professor Turner received the Max Planck Research Award at Potsdam University and is a Visiting Professor at the same University.
Select publications
Stones, R. & Turner, B. S. (2020) `Successful Societies: decision-making and the quality of attentiveness? British Journal of Sociology vol. 71 (1): 183-2020.
Turner, B. S. (2019) `Preface? to Emile Durkheim Professional Ethics and Civic Morals

.

London: Routledge Classics, pp. vii-xxiv
Roose, J. & Turner, B. S. (2019) `Islamophobia, Science, and the Advocacy Concept.? In Society: social science and modern society. (56) pp. 210-221
Turner, B. S. (2019) `A Nineteenth-century Turning Point: Nietzsche, Weber, Freud and Mill? in Yuri Contreras-Vejar, Joanna Tice Jen, and Bryan S. Turner (eds) Regimes of Happiness. Comparative and Historical Studies. London: Anthem Press, pp.234-248.
Turner, B. S. & Yilmaz, Z. (2019) `Turkey?s deepening authoritarianism and the fall of electoral democracy? British Journal of Middle Eastern Studies 46(5):691-698.
Turner, Bryan S. (2019) `Saba Mahmood: secularization, practice, and the ethical turn? Journal of the American Academy of Religion 87(4):990-998.
Turner, B. S. (2.019) `Max Weber and the Tragedy of Politics? Journal of Classical Sociology 19(4):377-390.
Forlenza, R. & Turner, B. S. (2019) `Das Abendland: The politics of Europe?s religious borders.? in Critical Research on Religion. 7(1), pp. 6-23
Possamai, A., Dagistanli, S., Turner, B. S., & Voyce, M. (2019) `Shari`a in Sydney and New York: A Perspective from Professionals and Leaders Dealing with Islamic Law.? In Islam and Christian-Muslim Relations. 30(1), pp. 69-85
Turner, B. S. (2019) `Trump, religion and populism.? In Fitzi, G., Mackert, J. & Turner, B. S. (eds.) Populism and the Crisis of Democracy. Routledge.
Turner, B. S. (2019) `Introduction: Demography, democracy, and right-wing populism.? In Fitzi, G., Mackert, J. & Turner, B. S. (eds.) Populism and the Crisis of Democracy. Routledge.
Current projects
$327,521(2020-2023) Discovery Project Grant, Australian Research Council (ARC) DP200102013: `Far Right in Australia: Intellectuals, Masculinity and Citizenship?
This project explores why men are drawn in increasing numbers to far right groups. Moving beyond the simple stereotype of disenfranchisement, it examines how tropes of masculinity are used to recruit and retain members and how bonds of citizenship have weakened amongst men who define themselves at the margins.
Accolades and awards
Max Planck Award (2015) Alexander von Humboldt Foundation Germany
Honorary Professor, Potsdam University
Appoinments and affiliations
Australian Social Science Academy: Fellow; Member, Membership Committee (1996)
Deans of Arts, Social Sciences and Humanities in Australia: Member
Fellow, The Newhouse Center for the Humanities, Wellesley College, USA (2010)
Presidential Professor of Sociology, The Graduate Center, The City University of New York
Editorial roles
British Journal of Sociology (since 2000); Canadian Review of Sociology (since 2008); Citizenship Studies (since 1997); Contemporary Islam (since 2007); Ethnicities (since 2000); European Journal of Social Theory (since 2006); Health Risk & Society (since 1998); Journal of Classical Sociology (since 2000); Journal of Social Archaeology (since 2000); Journal of Historical Sociology (since 1987); Journal of Human Rights (since 2002); Social Science & Medicine (1996-2008); Social Theory & Health (since 2003); Society (since 2007); Sociological Analysis (since 2009); The Sociological Quarterly (2012-16); The Sociological Review (1985-2014); The Turkish Review (since 2013)
Public engagement
Turner, B. (Speaker). (2018). The Political Relevance of the Sociology of Religion. The Religious Studies Project [Audio podcast.] https://www.youtube.com/watch?v=0WxtAmqeClQ
Public lecture (2019) `Populism, Intellectuals, and the Crisis of Masculinity.? Selwyn College, University of Cambridge.